How RPA Experts Can Help Businesses Streamline Processes and Increase Efficiency
31 Jul 2023
"Find out how the RPA (Robotic Process Automation) experts have transformed the way businesses operate by applying pioneering automation solutions, streamlining processes, and strengthening overall efficiency as ever."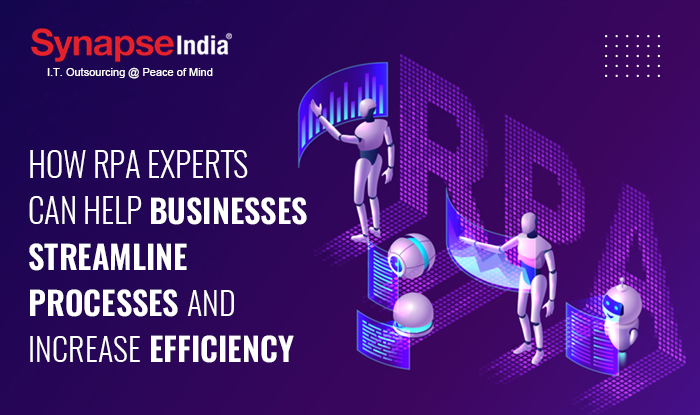 Nowadays, organizations are constantly trying to cut their net operating costs and improve total factor productivity, and to achieve this, they are investing more in business process automation for improved revenue and an excellent customer experience. According to different surveys, RPA experts have orchestrated a paradigm shift by synergizing tireless robotic agents with human employees, resulting in optimised workflows and unprecedented levels of efficiency.
As the data suggests, the global market for RPA is rapidly growing; it already reached $6.6 billion in 2021 and is anticipated to grow further. But before we dig deeper into this article, let's consider who the RPA developer is, his requisite skills, accountabilities, and significance in the context of business. In addition, we will also explore how RPA specialists can help your business streamline its business processes in detail.
So, RPA professionals are skilled professionals with a unique blend of technical competence and business acumen. These experts have a deep understanding of the RPA landscape and have the know-how to analyse operational processes, identify automation possibilities, and design customised solutions that align with a company's goals. Robotic process automation is a kind of technology designed to automate redundant human processes in an efficient and accurate manner. RPA employs sophisticated computer code and bots to mimic human acts and behaviours.
How can an RPA professional benefit your company?
RPA developers are sometimes also considered citizen developers, the term coined by Gartner for those who operate in addition to the traditional IT division. When we employ any RPA developers, they bring cost-effectiveness, resource optimisation, insights for advanced decision-making, enhanced communication, and cooperation with them, which benefit the organisation in multiple ways.
As per the recent report from IBM, RPA helps reduce operational costs by 25–50% by deploying labour-intensive repetitive tasks to bots and freeing up the workforce for more profitable tasks. Additionally, unlike human labour, machines work 24/7 without any break or leave.
Cost-effectiveness
RPA developers enable organisations to automate data and workflows together at a detailed level by using a combination of various AI tools to interpret unorganised and unstructured data. Automating also helps accelerate the cost-repair process, and as a result, organisations may experience huge profits.
Resource optimisation
RPA specialists provide effective optimisation of the resources. When automation is integrated with the organisation, the human workforce can be deployed to perform strategic business tasks instead of mundane and boring tasks. It also keeps the morale of the workforce high, which results in more revenues for the organisation
Minimising error
It is being observed that when a human being performs repetitive tasks daily, their chances of committing mistakes are comparatively high, as they get bored easily due to their low concentration span. Where machines are deployed to perform redundant tasks, the chance of error is very low.
Identifying automated and triggered responses
The facility to schedule in advance is standard on RPA systems that enable managers to automate certain scheduler procedures, which may be partial or complete automation. Triggers are not limited to human action; they can be documents, emails, or anything else that occurs instantly.
Improved communication and cooperation
While multiple teams are working on the same document, having a single source of information is critical. Typically, someone from each team must manage documentation manually or update changes. Such work, if automated, can result in improved communication and coordination.
Accuracy and Precision:
In contrast to their human counterparts, RPA bots never suffer from fatigue or distractions. This steadfast focus provides consistent accuracy and precision in performing tasks, significantly reducing the likelihood of inaccuracies.
Obligations of an RPA developer
Obligations of RPA engineers begin from planning to maintain workflow and meet the design objectives of the project to ensure smooth execution. A good knowledge and understanding of the intricacies and subtleties of corporate systems along with prior exposure to relevant tools and technologies required in RPA professionals to understand the business system well.
As we know, RPA is not dependent on any single language; instead, a good command of different coding languages like Python, Java, C/C++, and Ruby, must have for them to deliver excellent results. Additionally, they are liable to analyse things effectively to find loopholes in the present system and provide effective solutions to address them. While automating the system makes the occurrence of errors normal, bugs also emerge. The ability and attitude to debug the system and fix other issues streamline processes and elevate efficiency to new heights.
RPA impacts are felt throughout the organisation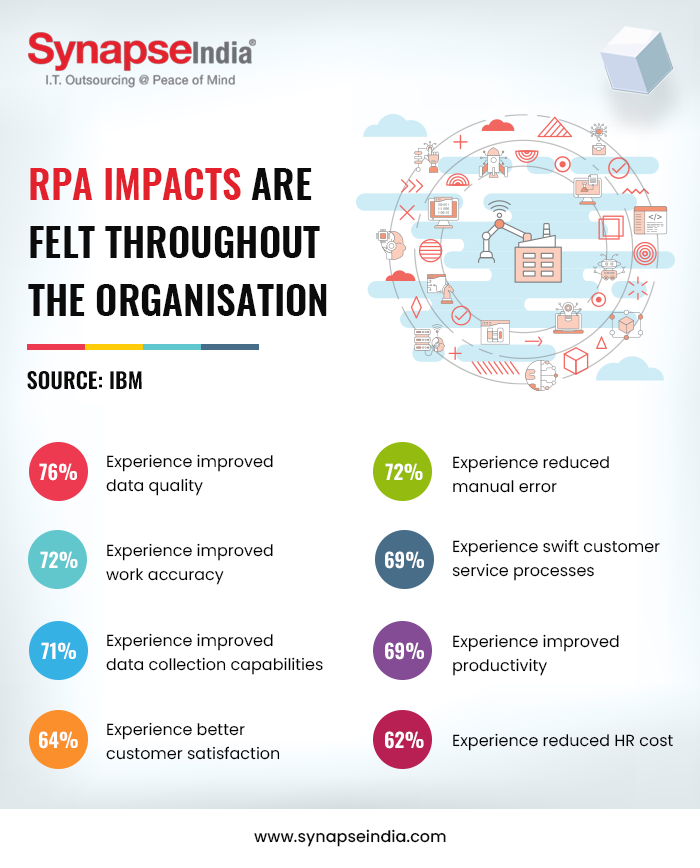 76% experience improved data quality
72% experience reduced manual error.
72% experience improved work accuracy
69 % experience swift customer service processes
71% experience improved data collection capabilities
69% experience improved productivity
64% experience better customer satisfaction
62% experience reduced HR cost
Challenges as well as the RPA Expert's Way Ahead
Despite the countless benefits, executing RPA isn't without challenges. Incorporating RPA into current processes and addressing data security concerns does require a deft touch. This is where RPA professionals came into play. They can carry out thorough process evaluations, address potential risks, and develop customised solutions that maximise efficiency while alleviating any possible pitfalls.
The Road Ahead: Incorporating a New Age of Efficiency
As businesses continue to navigate through the rapidly evolving market, the guidance of RPA experts becomes increasingly imperative. By embracing automation and using the expertise of RPA professionals, organisations can future proof their activities, simplify processes, and accomplish unparalleled levels of effectiveness.
So, the next time you encounter a workforce that seamlessly blends humans and robots, rest assured that you are witnessing the magic of RPA, orchestrated by the hands of skilled RPA specialists, revolutionizing the way businesses operate and empowering them to reach unparalleled heights of success.
If you're thrilled about the potential that RPA brings to the table, contact our expert developers at SynapseIndia immediately Let's begin this journey of transformation along!
Tags: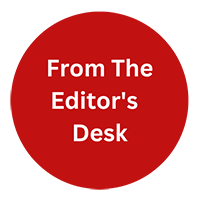 "From the Editor's Desk" is not just about the content. Our content writers will be sharing their thoughts on industry trends, new technologies, and emerging topics that are relevant to our readers. We believe that it's important to stay up-to-date with the latest news and trends, and We excited to share my thoughts and insights with you.