Maximising Conversion Rates with Laravel Ecommerce Website Optimisation
31 Jul 2023
"Discover the powerful strategies and techniques to boost conversion rates on your Laravel-based e-commerce website, enhance the user experience, and drive more sales. Read our comprehensive blog to optimize your online store and achieve remarkable results."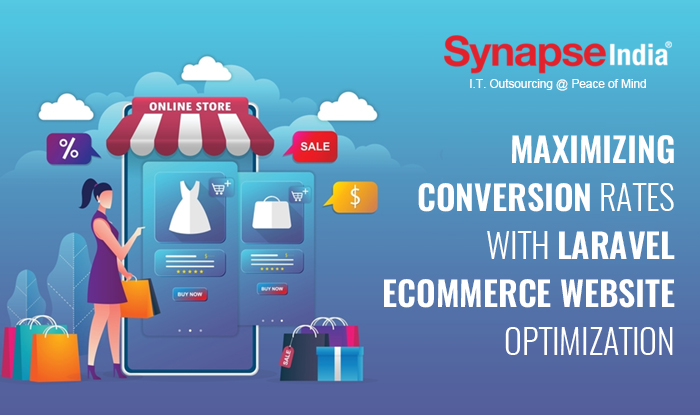 From highly customised shopping experiences to quick delivery times of a few minutes, Laravel E-commerce Website optimisation has evolved beyond measure. As per market statistics, the average daily time spent on a mobile is anticipated to reach 4 hours and 39 minutes! This means that any tool that can provide us with mobile-optimised business applications has great potential to improve the conversion rate. So, if you're running your online store on Laravel, you're already on the right track, but if you still haven't opted for it, you're missing a major chunk of potential customers, as Laravel offers a robust and flexible framework for building feature-rich, customer-friendly e-commerce websites. Additionally, Presently, 692,631 Laravel website are live with 7.5% of the market share of all website framework technologies.
In this blog, we'll explore various optimisation strategies and techniques to improve your e-commerce conversion rates, making your online store a customer magnet.
Optimise your Laravel website for better CRO
Optimizing website for improving conversion rate is essential to expand your business to next level. Here are some tips to enhance your performance to improve conversion rate of your business website.
Improve Website Performance
Decrease page loading time: According to market stats, approximately 40% of visitors abandon the website and never return if it takes more than 3 seconds to load. Amazon has found that a 100-ms inactivity in load time reduces sales by 1%.
Utilise performance testing tools like GTmetrix and Google PageSpeed Details to examine your site's speed.
Using a lightweight theme.
Using a lightweight theme.
compress the video or image size.
Reduce JavaScript or CSS files.
Use a content delivery network.
Optimise the checkout funnel
A difficult and time-consuming checkout procedure can lead to cart desertion. Enabling customers with options like guest checkout, progress indicators (guiding customers throughout the checkout process), and various payment gateways to accommodate different customer preferences.
Requesting minimum information with user-friendly website navigation and rapid product searches is the sweet spot you should aim for.
Implementing Responsive Design
With the rise in mobile phone users shopping, a responsive design is significant to ensure your Laravel e-commerce website adjusts easily to different screen sizes, providing users and visitors with a smooth shopping experience on any device
Customise your content
Present-day shoppers like personalised user experiences. They prefer getting the honorary treatment. If you can't give it, you'll lose sales. Here are some simple steps to include in the optimisation process:
Offer recommendations, as Amazon has done in the past, and witness a huge boost in sales.
Using geolocations for different regions helps in geotargeting, i.e., availing products in the same regional currency
Personalization based on device type is crucial, as it creates the kind of store experience customers will get.
Optimising for mobile users
The data from Statista suggests that mobile readiness has boosted e-commerce sales from $967 million to $3556 million from 2016 to 2021, and it's grown further since then. Without mobile-ready e-commerce, you are losing mobile audiences
Check for mobile compatibility with different tools like Google's mobile-friendly test to identify if your product descriptions are readable and your website is easy to navigate on mobile.
Choose a minimalistic design and avoid using excessive elements to have proper space for CTAs.
Compress images and avoid using text-heavy content.
Integrate Social proof
To build credibility and trust among customers, integrating customer reviews, ratings, and testimonials into your e-commerce website is essential to reassuring visitors about the quality of your products and services. Even if your website is less popular, good, or bad reviews on product pages and social media can have a significant impact on potential customers ability to make informed decisions.
Optimise Product Pages
Ecommerce web design trends are changing very rapidly, and to keep getting traffic to your website, frequent updates are essential. Landing pages are where the customer lands first, and Laravel offers you features to update them easily and reduce the bounce rate greatly.
Additionally, effectively optimising product pages on an e-commerce website encourages customers to make informed purchasing decisions. Using high-resolution images from different angles, compelling and informative product descriptions that highlight unique selling points, and prominent CTAs encourages users to add products to their carts or make a purchase.
In addition:
Creating SEO-friendly product sheets and up-selling and cross-selling can also help boost sales to a great extent.
Adding special offers for generating interest in the customers and inciting them
Curating the best-seller section for shoppers to enable them to view it right away
Integrating product reviews to build trust and credibility in the customers is important; the more they trust, the higher their probability of buying.
Using A/B testing to find out which version of your website converts more visitors into buyers.
Make your Laravel Web Presence SEO-friendly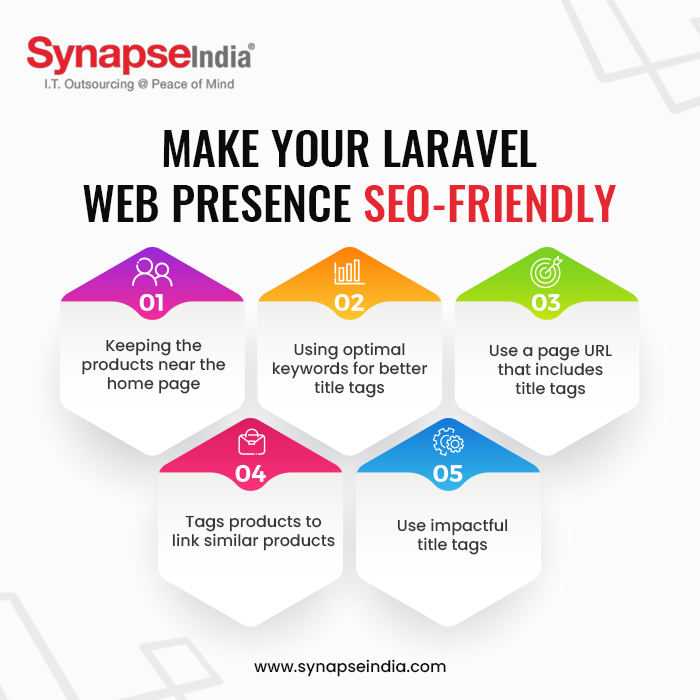 Keeping the products near the home page
Use impactful title tags.
Using optimal keywords for better title tags
Use a page URL that includes title tags.
Tags products to link similar products.
To Wrap Up
With the arrival of path-breaking functionalities, Laravel E-commerce Website development has become a distinguished tool that promises to shape the future of e-commerce by maximising profitability for long-term success. The success of an online store depends on its ability to convert visitors into customers. Increasing conversion rates is the highest priority for any e-commerce business to achieve sustainable growth and profitability.
Besides, e-commerce optimisation is an ongoing process. With Laravel's powerful capabilities and these proven strategies, you'll be well on your way to maximising conversion rates and achieving e-commerce success!
FAQs
1. What are the different ways to optimise your Laravel e-commerce website?
Find out your target keywords.
customise the shopping experience.
Utilise images and alt tags.
Use URLs that are user-friendly.
Product page optimisation
2. Why should you start conversion rate optimisation?
These are ways to improve conversion rates, such as:
Make website navigation simpler.
Include testimonials and logos.
Use trusted signals.
Eliminate unnecessary elements.
Tags: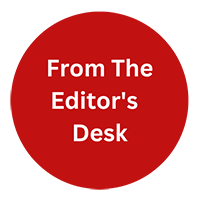 "From the Editor's Desk" is not just about the content. Our content writers will be sharing their thoughts on industry trends, new technologies, and emerging topics that are relevant to our readers. We believe that it's important to stay up-to-date with the latest news and trends, and We excited to share my thoughts and insights with you.