How Robotic Process Automation is Revolutionizing Industries
12 Mar 2022
"Read the blog to know how Robotic Process Automation is revolutionizing industries. Also, hire RPA developers from SynapseIndia to build a Robotic solution for your business."
Robotic Process Automation (RPA) is software that aims to automate administrative work, eliminating the need for humans to perform mundane tasks like collecting and classifying data and freeing up your time to do more strategic work. Artificial intelligence is a computer system that can perform tasks that generally needs human intelligence. When brought together, these robust solutions take digital transformations to another level.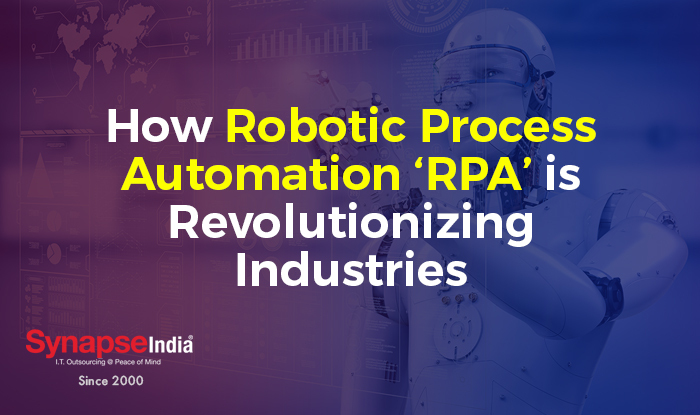 By mapping how people, process, and technology interact to deliver value to customers today, an operating model serves as an invaluable tool for executives planning to invest in new ways to deliver value in the future. Operations can be mapped for the entire company, but also for individual divisions and departments. This leveling is critical for companies attempting an enterprise-wide digital transformation. Executives can use their own budgets and teams in their quest to root out inefficiencies within the departments they oversee.
Quick Glimpse on Robotic Process Automation
As we have pointed out many times, the uses for robotic process automation are nearly endless. At its core, RPA uses software robots, chatbots, artificial intelligence, and machine learning to automate repetitive tasks and streamline workflows across all business functions and industries.
These digital technology use cases can vary greatly between industries and depend on how they are implemented by software developers. Common use cases for RPA silos include order processing, data migration, data audits, and billing. Within each of these examples, there is a distinct potential for human error. Whether an analyst incorrectly enters an email address or contact number, or a data center representative accidentally breaks one of their algorithms, human error can cost companies time, money, and resources.
Of course, depending on the industry, this could have far-reaching consequences. Especially in the United States, where business reputation is paramount, it's important to avoid human error and invest in data protection where possible. While this seems intensive, it is the necessary next step, which can lead to higher levels of team morale, customer satisfaction, and employee engagement.
How Robotic Process Automation is Transforming Industries
RPA in Banking and Finance Industry
The main purpose of RPA in the banking industry is to assist in the processing of banking work that is repetitive in nature. Robotic Process Automation (RPA) helps banks and financial institutions increase their productivity by engaging customers in real time and harnessing the immense benefits of robots.
Benefits of RPA in the Banking and Finance Industry
There are various advantages of RPA in the banking & financial services industry. Some of them are listed below:
Improve Processes
The digitization of data has permitted banking industries to reduce paperwork. RPA can quickly scan relevant information and collect strategic analytical data. There are several RPA tools that provide drag and drop technology to automate processes with little or no development. Similarly, bots continue to work 24/7 to handle data entry, payroll, and other mundane tasks, allowing humans to focus on more strategic or creative work.
Business Growth with Legacy Data
With the implementation of RPA, banks and the financial services industry are using legacy and new data to bridge the gap between processes. This kind of initiation and availability of essential data in a single system enables banks to create faster and better reports for business growth.
Scalability
The fact that the robots are highly scalable allows you to handle high volumes during peak hours by adding more robots and responding to any situation in record time. Additionally, implementing RPA allows banks to focus more on innovative strategies to grow their business by freeing up employees from performing mundane tasks.
RPA in Retail Industry
Retail is the last link in a multifaceted supply chain, with costs added at each stage. Any solution that helps reduce these expenses or optimize product cost can help retailers improve profitability.
RPA in retail supports a wide range of clerical and administrative tasks, in addition to operational activities and financial tasks. RPA can be instrumental in improving productivity and accuracy in a variety of operations in retail.
Benefits of RPA in Retail & Manufacturing Industry
Check out the benefits of implementing Robotic Process Automation in retail industry:
Streamlined Order and Returns Processing
RPA enables retailers to process orders and returns much faster by avoiding delays in processing these activities. This results in more bandwidth to manage exceptions.
Manage Inventory
Retail industry automation helps companies improve collaboration across departments, including manufacturing, R&D, and marketing, by automating processes related to alerts and tracking customer responses in real time. Furthermore, it also allows retailers to adjust their prices, inventory, and production much faster.
Enhanced In-store Planning
RPA offers retailers the ability to use data to anticipate customer expectations and create a better plan for the removal of specific merchandise from the store based on specific customer preferences.
Robotic Process Automation in Education
Robotic process automation, as the definition suggests, makes it easy to perform repetitive tasks. So, what kind of tasks can you automate in your educational institution? Whether it's academic, administrative, or financial and human resources tasks, you can easily automate them all with robotic process automation. At least 70% of these tasks can be done efficiently with RPA tools, giving educators more time to do what they do best, which is teaching.
Benefits of RPA in Education Industry
Have a look at the advantages of using RPA solutions in education sector.
Enhanced Management
Organizations have been provided with a centralized management server, which is capable of remotely tracking, scheduling, managing, and deploying RPA bots. Since it is easy to incorporate specific operations or requirements into automation rules, Robotic Process Automation enables institutions to manage business functions effectively to maintain better governance. This allows for auditing and analysis to be carried out in one place and to receive critical reports via RPA at regular intervals for auditing and analysis purposes.
Improved Job Execution
One of the important features of RPA is that it can perform a specific and predetermined job full time without errors. When a task completes with minor errors, it does not require a rebuild. Operational excellence makes it easier for institutions to improve their overall performance and earn more profits.
Increased Compliance
RPA eliminates data inconsistency between disparate sources and records all actions completed by software robots while performing automation. This allows employees to proactively recognize and manage compliance issues and conduct regular internal reviews. These RPA features support businesses in various industries, whether the healthcare company needs to comply with security and privacy rules, or the insurance provider needs to comply with certain regulations, or educational institutions need to keep data safe.
RPA in Healthcare Industry
The healthcare industry is full of protocols, standards, rules, and compliance requirements. These standards are considered the baseline for quality care, even if they are not directly related to the treatment itself, but to business processes or data management. But that's only part of a challenge. A natural sequence of strict regulations is that employees are engaged in tedious tasks, such as entering patient data or moving it through various systems.
Benefits of RPA Tools in Healthcare Industry
Here are the benefits of executing RPA tools in healthcare industry. Let's take a quick look:
Elimination of Errors
RPA bots are trained to apply programmed rules. Humans can make mistakes knowingly or unknowingly, but when bots take the place of humans, they can't make mistakes. When there are no bugs in the code, rule-based tasks will be totally bug-free.
Better Patient Experience
RPA bots increase customer service efficiency and make it easier for the patient care team to handle patient questions or concerns. The customer service of healthcare providers can be increased to a high level with RPA solutions in the front and back office.
Employee Satisfaction
It is commonly believed that robots will eliminate human work-related jobs. In reality, however, robots enhance human capabilities. Executing repetitive and boring tasks only lowers the performance of human employees. When this task is taken over by RPA tool in healthcare, it becomes easier for human professionals to engage in strategic intelligence-driven roles. This will also help human professionals in terms of professional growth and constant learning.
Empower Your Business with RPA Tools
Although it is almost impossible to predict where technology will take us next, it is realistic to assume that RPA will continue to influence and impact digital and IoT transformation for the foreseeable future. At SynapseIndia, we are confident that RPA will continue to grow.
To learn more about how your brand can take advantage of RPA solutions and applicable usage scenarios, contact us today. With years of industry experience and our fingers firmly on the pulse of technology in modern workplaces, we can help you understand how RPA can help you grow your business.
Tags: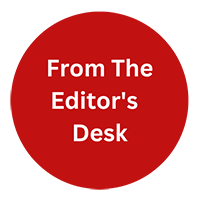 "From the Editor's Desk" is not just about the content. Our content writers will be sharing their thoughts on industry trends, new technologies, and emerging topics that are relevant to our readers. We believe that it's important to stay up-to-date with the latest news and trends, and We excited to share my thoughts and insights with you.