12 Steps to eCommerce Website Development Process
03 Jun 2022
"Now, get your own eCommerce online store, without any hassle. Checkout Easy 12 steps to develop an eCommerce website. Helps you to understand b2b eCommerce website process in detail."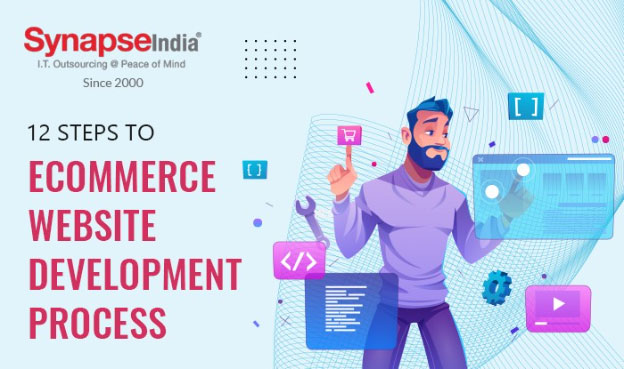 The number of people shopping online is increasing day by day as it is convenient to do it from anywhere. If you have a physical store, you should also consider creating an online store as it is a great way to earn extra money. Also, having eCommerce solutions for your business is a smart and affordable way to reach the global audience.
Building an online store goes beyond understanding the market you are about to enter. You also need an understanding of branding, web design, and content strategy. This may seem like a lot of work.
We've broken this down into 12 steps that will simplify your own B2B eCommerce website development process and help you achieve your business goals.
Types of eCommerce Websites
Before discussing the process of designing and developing an eCommerce website, we'll first look at the main types of eCommerce websites to define the most suitable type for your needs and goals before starting the development process.
The Main Types of eCommerce Websites Are:
B2C online stores: The common type of e-commerce business with an e-commerce website dedicated to displaying and promoting products to end consumers such as clothing and technology products including mobile phones and PCs or furniture.

B2B eCommerce platforms: Companies develop online e-commerce platforms to promote their products and services to other businesses while increasing their reach and targeting international markets.

C2C eCommerce stores: Third-party stores, such as eBay, allow individuals and retailers to promote and sell their products online to end consumers.
There are other types of online platforms where individuals and specialists offer their services to businesses, such as freelance platforms, which typically do not fit the criteria of e-commerce website. Next, we will discuss the steps to build an eCommerce website.
12 Steps to eCommerce Website Development Process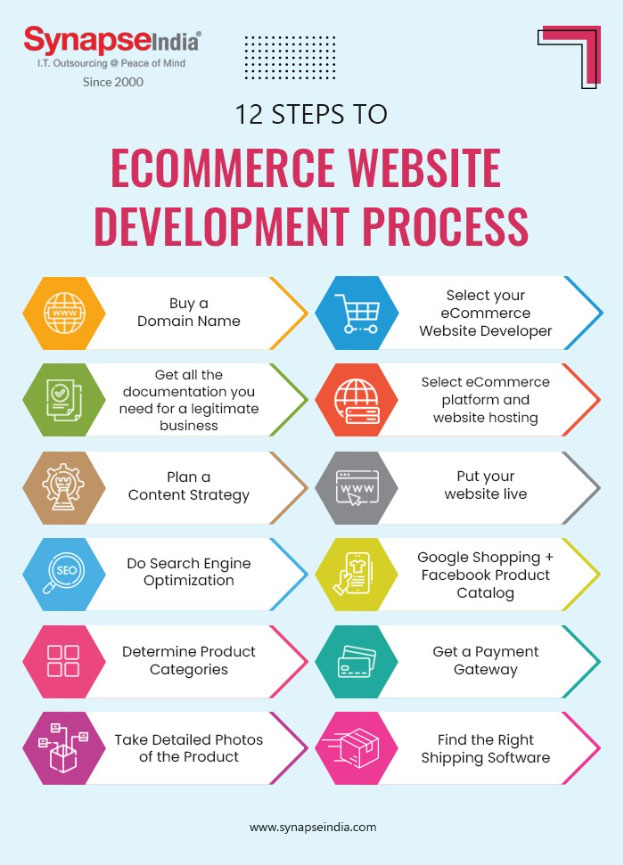 Once you've defined the right model of an eCommerce website for your business, whether it's an online store dedicated to promoting your products or a marketplace for people and retailers to promote your products, the next step is to start the B2B eCommerce website development process.
Step 1: Buy a Domain Name
This is pretty straightforward. You need a domain name that perfectly identifies your brand. Don't think too much about the process. Using a site like GoDaddy, you can easily purchase a domain name.
Step 2: Select your eCommerce Website Developer
is it going to be you It may seem cheaper, and you may know a lot about the digital world? But can you keep up with all the constant changes? The new technologies? You need an expert web developer and an expert in SEO strategy to increase your chances of success. SynapseIndia offers the best eCommerce development services. We have completed 1,000+ successful projects for clients around the world.
Step 3: Get all the documentation you need for a legitimate business
Register your business, get a seller's license, and start researching legal business issues. You should contact a local attorney to assist you in setting up your business. While it's an upfront cost, it's likely to save you significant headaches and expense down the road.
Step 4: Select eCommerce platform and website hosting
To save time and money, select a popular eCommerce platform. We recommend Shopify, Magento, WooCommerce, or BigCommerce. Most developers are familiar with these, making it easy to process payments, integrate plugins, etc.
Step 5: Plan a Content Strategy
We are fans of content design first. Creating a website with actual content, rather than filler, allows for a better representation of the final product early in the process. Working backwards and integrating images, text, and other elements later in the process can complicate things.
Toward the start of the development process, you ought to have a content strategy. This implies knowing everything content you want to say to your image story and convey what your products do. This can include writing, infographics, photos, videos, and other media you'll need to better serve your customers.
Step 6: Put your website live
As soon as you commit to starting your business, publish your site, even before listing any of your products. Have your developer create a home page, an About Us page, and a Contact page. It doesn't have to be beautiful, but having a working site will be useful for a number of reasons:
Firstly, it will permit you to lay out authenticity while arranging manages vendors. You will have more than an idea. Second, by communicating with reporters and bloggers, they can see that you have a website and are credible. Third, it will give you a place for all of these sources to link to your site, which is, of course, key to building SEO.
Step 7: Do Search Engine Optimization
Getting organic traffic depends on how relevant your content is in the eyes of web crawlers. Paying attention to SEO can help you rank higher and get more clicks.
Some SEO best practices include:
1. Use the terminology that people commonly use when talking about the products and the area of interest in which their products are located.
2. Do keyword research through Google Keyword Planner and Google Trends.
3. Make sure all headings (such as H1 and H2) and the title and description contain relevant words and phrases.
4. Take a tasteful approach to incorporating SEO, never cluttering your content with keywords, or allowing optimization to diminish content readability.
Of course, SEO goes far beyond these points.
Step 8: Google Shopping + Facebook Product Catalog
We've talked a lot about building your SEO presence during the development process so that instead of waiting for website development to complete and starting your SEO from scratch, you can start beefing up your SEO while your developer is working on your site.
Step 9: Determine Product Categories
The organization of an e-commerce website works in a similar way. Each section can be a set of products related by who it is for, its purpose, and the characteristics that the products share with each other. Navigation calls to action, and other ways to get people to your products with the fewest clicks depend on a well-defined set of product categories.
Product categories should be straight to the point. Someone should be able to understand and recognize what they are. Customers want familiar guideposts that show them the way to what they're looking for.
Step 10: Get a Payment Gateway
Getting approved for a payment gateway and credit card processor is not an easy process, so do your research and make sure you are prepared. Before you can apply, you'll need to set up a secure payment process on your website, create a Privacy Policy and Returns Policy, find out you're shipping and delivery methods, and have a phone number and email address. customer service emails that work.
Step 11: Take Detailed Photos of the Product
With a modest setup of a tripod, a couple of lights, and a paper background, most people with a decent camera and a bit of experience can take good photos. But if you have the budget, it may be worth paying a professional for higher quality images. Whoever takes the photos is responsible for making sure they are properly focused and white balanced and that the colors are true to the products. Having the photograph editing skills to additional improve these shots will enhance them an even portrayal of your products.
Step 12: Find the Right Shipping Software
Order fulfillment and shipping are made easy with the right software. Especially for shipping large volumes of orders, it's important to have efficient shipping software to take care of all the complexities of this final step.
Final Words
The journey of successful professional eCommerce website development process begins with defining your business needs and desired goals to achieve with your online store, then partnering with an experienced eCommerce software development company to develop, launch and promote a flawless online store that generates endless business opportunities and the highest ROI. Please contact us to get more information on it.
Tags: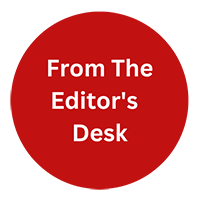 "From the Editor's Desk" is not just about the content. Our content writers will be sharing their thoughts on industry trends, new technologies, and emerging topics that are relevant to our readers. We believe that it's important to stay up-to-date with the latest news and trends, and We excited to share my thoughts and insights with you.