The design stage starts once the analysis part is complete. It involves the use of advanced design tools and research methodologies to create an insight into the project. This insight is based on factors like identification of business needs, heuristic analysis, and user inputs. The designers also leverage user mapping techniques to identify the potential gaps between design and user experience (UX). The next step in design is to create an information architecture. This process comprises techniques such as Card Sorting and ensures a seamless flow of information throughout the design process.
Wireframing and prototyping are very crucial to the entire process in terms of the final output of the design. The designers, in this particular step, sketches wireframes of the design, that include high-fidelity wireframes. Once the wireframes have been created, the design team makes an interactive prototype. This step is also important in a client's perspective for we share a prototype of the product at this stage. At SynapseIndia, we are extremely serious about our design practices and how they impact clients' business. You can count on us for taking your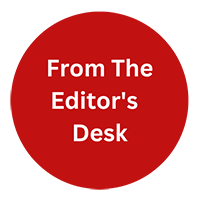 "From the Editor's Desk" is not just about the content. Our content writers will be sharing their thoughts on industry trends, new technologies, and emerging topics that are relevant to our readers. We believe that it's important to stay up-to-date with the latest news and trends, and We excited to share my thoughts and insights with you.