Web App Development Cost In 2022: Getting The Right Estimate
01 Dec 2021
"Mobile app development depends on various factors. SynapseIndia analyzed all such factors & their role in increasing mobile app development cost. Read more!"
How much does it cost to make an app in 2022?
Developing an app is more than approaching an app development company. Before you narrate your project idea to your technology partner, make sure you have accomplished the first step, which is, estimating the cost of mobile app development.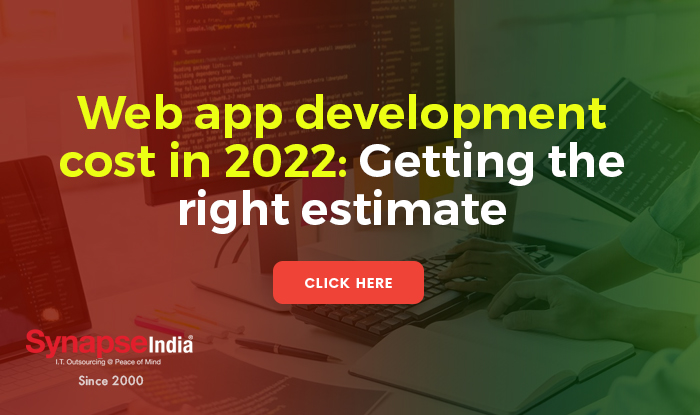 Building a successful app includes significant investment, you will find millions of apps available across downloading platforms- Android, iOS, and Microsoft. Records of the first quarter of 2021 state that app users have downloaded about 28.2 billion apps from Google Play and around 8.4 million apps from the App Store. And it is expected that the users will spend approx $34 billion and more on mobile apps through the app stores.
The mobile app market will only experience growth in the3 upcoming year. Hence, considering the above-mentioned stats, it is wise for organizations to invest in developing an app that will take their business to a level ahead.
Let's dig in further and try to comprehend the budget estimation process you need to start with app development.
Factors influencing the cost of mobile app development
1.

Features
The features of an app play an important role in deciding the actual cost of app development. Apps with simple features fall into the basic category, but apps with complex features can affect your budget.
A glance at the few important features of the app:
●

Basic UI Component
Delivering user-friendly apps to users has become the need of the hour. Often an eye-catchy app design attracts users and has the potential to extend their reach. And when it comes to the UI component of an app a clickable prototype is essential. Usually, building an app design takes up to 10-15% of the total app development cost.
●

Signup & Sign In
This feature allows the users to create an account in the mobile app to use it. Though, users have the choice to sign in through email as well.
●

Simple Search With Filters
To make the app search easy developers often apply many filters, it will help in search by providing the exact results that users are looking for. The integration of search filtering algorithms makes this possible. The development of such an algorithm requires extra time and money.
●

Manual Data Entering
Users these days avoid entering their data manually, so if you are planning to launch an app make sure that it has automated data entry options. This may charge you an amount, but it will surely increase your app usage.
●

Custom UI Component
Custom UI components offer multiple benefits to the user, such as it allows them a unique user experience by resolving navigation issues effectively. However, it will impact the app development cost and require extra effort to ensure flawless design accessibility.
●

Complexity of Design
The designing of a mobile app is complex and time-consuming. It requires detailed research of the niche and the target audience. How much does it cost to make an app? This detailed research about the users and the design plays an important role in figuring out the cost of development.
●

Custom Made Icons & Illustration
Unique and eye-catchy icons and illustrators leave an impact on the users and somehow affect their app download decision. The custom icons reflect your brand and help in recognizing your brand. Customized icons are an effective tool to promote your brand and grow its extension. The development of icons and illustrations may cost you between $500-$2000 each.
●

Brand Design
The purpose of brand design is to reflect your brand virtually. It's the initial feeling that you leave on your clients. It's a picture that you need to uncover in the world. It's the personality of your brand that interacts with users. So, it needs to project your quality and values and your aims.
For such services, the reach lies somewhere in the range of $1,000 and $5000. This might build your application advancement cost; however, it will have an enduring impact on your clients.
●

App Prototype Designing
The app prototype designing covers the following part of the designing process:
➔ Crafting wireframe
➔ Mockups or designs
➔ Platform development
➔ Back-end
Model advancement is imperative for an application financial plan as it's easier to carry out an adjustment to design quickly in minutes, not even in days or weeks.
It might require 2-4 weeks to foster a basic prototype. This influences the application advancement cost as the expense relies upon the time expected to make an application, including each fundamental feature.
●

Navigation Self-Evident
An application's navigation ought to be immaculate, it works like an invisible guide who takes you through the navigation journey. Regardless of whether your application exhibits compelling content, it would be a total waste of time if people fail to find it. It requests 10 hours or more to present this feature in an application.
●

Finger-Friendly Tap-targets
Touch targets are the web pages that allow users to interact on touch devices. Every link, form element, and the button has tap targets.

As per the mobile-friendliness of such tap targets, various search engines rank the pages. Thus, you want to guarantee that they ought to be far enough and large enough from one another that can make your page available and dynamic. Though, it will affect the application development cost but to boost user experience this is required.
●

Number of Platforms
Another variable that influences the application development cost is the platform. Many individuals lean toward android and iOS improvement stages. However, you will encounter many options that will create a significant impact on the back-end and front-end development costs.
Each platform holds unmistakable qualities and incorporates various kinds of highlights. Besides, to foster a local application for a specific platform needs a completely unique set of skills accordingly, OS specialists for example IOS developers, Android developers, Flutter developers, etc.
Developing a mobile application on multiple platforms will increase the total development cost.
●

Backend Infrastructure
Backend infrastructure for a portable application comprises software that runs on a server. It is for the most part used to empower the application to communicate with data sources to perform the following activities:
➔ Data storage
➔ Analytics for data
➔ Data sharing
➔ Storing and updating content to display on the app
➔ Maintaining a centralized space for the business logic that can be reused for different apps connected to this space
●

Backend As A Service (BaaS)
There are various ready-made backend solutions for various types of portable applications. This product is called Backend As A Service (BaaS) since you are utilizing the service of a ready product.

BaaS software is very easy to set up and it can get your mobile app up and running in a very short span.
●

Using a Cloud Server
Assuming you need the backend of your application to be more adaptable, your most ideal choice is to make a custom backend infrastructure and host it on a cloud server. Google App Engine and Amazon AWS are the two most famous cloud servers that large organizations depend on for facilitating their backend infrastructure.
Making a custom backend for your application and facilitating on a cloud enables you with a lot of scope for customizing your app. Also, because you own this backend framework, you can move it to one more cloud server based on your evolving needs.
●

App Administration
Application infrastructure components might incorporate different things, like data storage, servers, app monitoring, networking, and more.
●

Location & Structure of Team
Regardless of whether you need to hire a freelancer or an organization, their area assumes an enormous part in deciding your application development cost.

For instance, normal hourly advancement rates in nations like the USA are upward of $60 or $50 in Brazil. In any case, in eastern nations like India, the normal hourly development rate is just about as low as $20.

Your technology partner — it's the main part that you want to focus on more than anything else. The partner you pick will affect the expense. An accomplished application development organization will assist you with saving time and expenses while ensuring quality work.

The most critical part that you want to consider is employing a dedicated team, an IT firm, or a freelancer for your project. Recruiting a committed team will assist you with getting all that yield while freelancers can continue to figure. Most likely, freelancers are not difficult to bear, however, you might need to think twice about numerous things, like deadlines, quality work (at times), and correspondence.
●

Hosting
The server cost for portable applications and application hosting costs is a basic cost head in the app maintenance costs. You would have to consider what sort of server you want for your application and afterward compute the related application hosting costs.
Relying upon the type of app data, you can design out the server resources. You can look at if the application information is more text-based or static, or are you taking care of sound, video, and other massive chunks of information being sent or received by clients.
You will require more server CPU, memory, and disk space for more broad information, which will prompt expanded expenses. An app hosting server can cost somewhere in the range of $70 each month up to $320 each month, which generally relies upon factors, like the content, the quantity of dynamic clients, and projected development.
●

Monitoring
Mobile application bugs, crashes, and other errors should be monitored and analyzed—and you'd need tools like Google Analytics that give experiences to assist you with settling on better choices.
You unavoidably look at your clients' preferences and expectations so you can settle on speedy choices. You will find a lot of free tools, however, some advanced tools might cost to give critical insights.
The monitoring and decision-making include an expense on schedule, and you'd need to plan to choose tools that suit your business needs. However, it can affect the cost of mobile app development.
●

App Updates
Pause for a minute to think about this: in 2017, more than 20% of millennial smartphone users uninstalled applications just because they didn't care for how the logo looked on their screen.
It implies that clients are micro-aware of usefulness and benefits, and if something doesn't fit their expectations, they may uninstall your application.
Thus, you should be consistently observing user preference and expectations—and refreshing your application.
Indeed, even the application stores keep up with strict quality rules, and if your application listing doesn't satisfy their guidelines, they might dismiss your application listing.
If you track down a plunge in your application rankings, the platforms might decide to go on a cleanup drive and eliminate your application from their stores. It would be reasonable to consider refreshing your application with new elements and APIs.
●

Engagement & Marketing
The marketing of an app significantly impacts its development cost. Indeed, marketing helps in gaining users and will help you make the most effective decision in the near future.
2.

Cost of Hiring App Developers
When you have considered all the technical factors that impact your mobile app development cost, it's time for you to consider another significant factor.
Should you hire freelancers, or should you hire an app development agency?
Despite keeping all the other things balanced, this decision alone can increase or decrease your mobile app development cost.
To keep things fresh, we will take you through the upsides and downsides of the two cases.
Pros of hiring freelancers
● Low cost of hiring a freelance professional
● Easy availability and flexible schedules
Cons of hiring freelancers
● Responsibilities of onboarding multiple freelancers for app design, development, and testing
● Project management responsibilities
● No reliability for a long-term commitment
● No post-delivery support
Pros of hiring an app development agency
● A safe, professional, and reliable association
● Guaranteed NDA and other compliances
● From project scoping to post-delivery support, everything is taken care of
● Flexible, regular, and professional project management
● Assured long term association for app maintenance and support
Cons of hiring an app development agency
● Costs are a bit higher than hiring freelancers
● The process may require a lot more paperwork
3.

UI/UX Design & Development
The UI configuration is the face of your mobile application and the UX configuration is how the user will engage with your app. Subsequently, application configuration is one of the most crucial elements of the mobile application.
The expense of designing a mobile application is impacted by a lot of factors.
For instance, the number of screens that will go into your application will directly affect the long periods of work a designer should place into. Also, what sort of screens do you need your application to have? Would you like to include modern-day graphic components for your UI and facilitate the UX with lots of animations?
Assuming indeed, that would be added to your mobile application development cost.
Though, the main thought here is whether you need to go for native UI design or a custom UI plan for your application.
Navigation vs Custom UI Design
A custom UI configuration facilitates distinguished user experience and tackles navigation issues successfully. On the other side, it expands your development cost and requires additional effort to guarantee design accessibility.
A native UI configuration is generally viewed as more familiar from the client's perspective and is lighter on the pocket. Yet, it may not give your mobile application a recognized brand identity and often encompasses a limited set of highlights.
Conclusion
The elements affecting your mobile application development cost are a mix of your application's specialized necessities, the expectations for your main interest group, and the long-term objectives of your business. This collectively shapes the highlights and functionalities of your mobile application.
In addition, a significant deciding factor is whether you recruit freelancers or a software organization as your application development partner. While employing freelancers might appear to be less expensive from the start, you need to think about its long-term cons while making a choice.
If you choose to collaborate with a professional app development organization from India, you can keep your development costs under control while guaranteeing a superior quality of service.
SynapseIndia is a leading mobile app development company in India. We have teams of experts, which include developers, testers, designers, and project managers. We have delivered outstanding apps to a diverse clientele and earned great testimonials from them.
With regards to building an application, knowing the mobile application advancement cost is foremost. We have clarified all variables, yet we suggest you connect with an expert and advisor to get a better idea as finding an application advancement organization will decide the expense. Thus, let's join today and if you are searching for any further help with the matter.
Tags: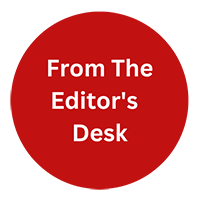 "From the Editor's Desk" is not just about the content. Our content writers will be sharing their thoughts on industry trends, new technologies, and emerging topics that are relevant to our readers. We believe that it's important to stay up-to-date with the latest news and trends, and We excited to share my thoughts and insights with you.