Why a Business Would Need a Mobile App in Todays Trend
11 Jul 2022
"Are you still wondering why your business needs a mobile app over website? So, simply dig in the blog to know why your business need an app in todays trend."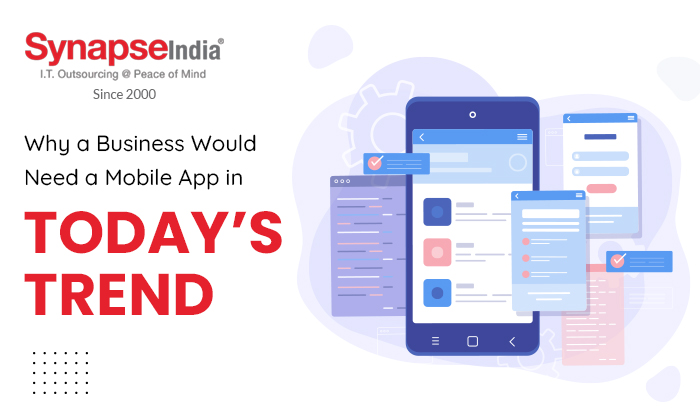 Times have certainly changed. Not so long ago, mobile apps were associated only with the big corporations and businesses. But that part of history is already history. Today, most smaller businesses are taking the benefit of mobile apps over websites to better serve their customers and see a higher ROI (Return on investment).
The business world is no longer about handing out brochures, hanging billboards, printing ads, and having your technical staff respond to each and every customer query. The entire globe has gone mobile, and your business should too!
Let's guess what might be going through your mind right now; I don't need mobile apps to sell my products to my loyal customers, the advantages of mobile apps over websites, what is enterprise mobile engagement, etc. Well, maybe these are the cases right now, but in the near future, it will be a completely different story, and you have to be prepared for that.
As a leading mobile app design and development company, we believe that business mobile apps are the driving force for prosperity and success. You do not agree? Take a look around this blog to know why your business need an app in todays trend. We are sure that you will be on our side by the end of this write-up.
Why Does Your Business Need a Mobile App?
Currently, around 6.37 billion people around the world use smartphones and 90% of the time they spend with them is spent on mobile applications. The mobile app market is growing and getting bigger every day. According to statistics, there were approximately 230 billion mobile app downloads in 2021.
This data clearly shows that mobile applications are increasingly becoming the preferred way for consumers to interact with businesses. That is why most of the businesses now get their dedicated mobile app to attract more customers. Read more about elements to be considered before development of a mobile app for your business.
Reasons Why Your Small Business Needs an App Over Website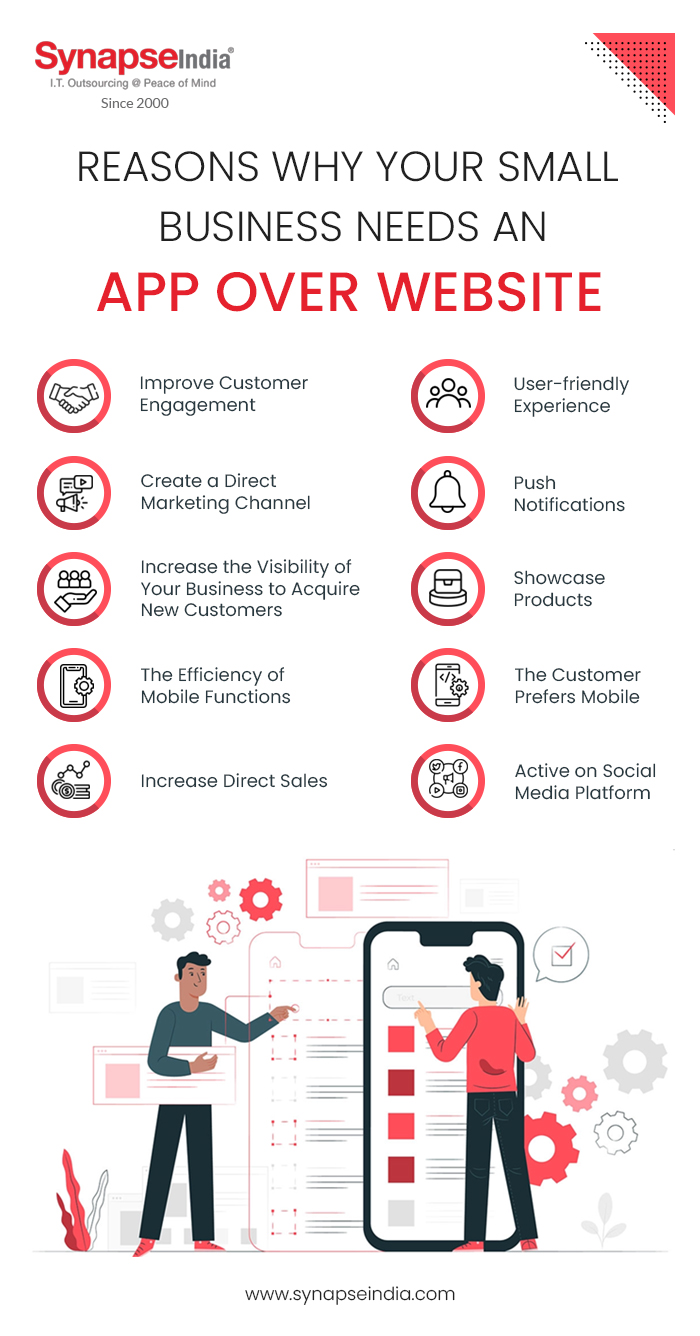 The list of benefits of mobile applications is quite long. Let's take a look at some of the reasons why your business needs an app instead of a website.
#1. Improve Customer Engagement
Mobile apps are quite affordable and an effective way to target your potential customers. They create a channel of direct interaction between users and the business where one can easily explore and interact as they wish.
Integrating social channels with your mobile app further helps expand your digital presence and enrich communication between brand and audience. This also makes it easy for your customers to share your content with their peers, ultimately increasing engagement.
#2. Create a Direct Marketing Channel
Mobile apps are the most personal and pervasive ways people consume digital information. For any business, mobile app development can serve many purposes.
From providing general information, services, or product prices to booking forms, search functions, user accounts, news feeds, hassle-free support and much more at your customers' fingertips.
Additionally, mobile apps can create an effective marketing channel where, through push notifications, businesses can create a digital relationship with their consumers, interact directly with and remind customers about their products and services whenever it makes sense.
Also Read: Different platforms for mobile app development and their pros and cons
#3. Increase the Visibility of Your Business to Acquire New Customers
What if your clients were prospecting for you? The good method of word of mouth is still the most effective, and there is nothing better to implement it than social networks. You may want to consider allowing users to share app content with your network. Your business will gain visibility and, at the same time, attract new customers.
In addition, a web application, that is, a site optimized for mobile devices, will allow all people to find your business simply by typing keywords in a search engine. This is the best solution for startups looking to get noticed.
#4. The Efficiency of Mobile Functions
Through the mobile application, it is very easy to use the camera, phone calls, the contact list and more. It will make the user experience interactive and fun. In addition, it reduces the efforts that users would have to make. Device features can certainly shorten the time it takes for users to complete a task in an app and can even increase conversions.
#5. Increase Direct Sales
Recent analysis suggests that mobile app users spend more time on a company's mobile app than on the company's mobile website.
As we continue to evolve into a mobile-centric society, it's no surprise that mobile apps are at the heart of the development drive. Developing a mobile app can go a long way in propelling your business into the hands of new customers and future business success.
#6. User-friendly Experience
Studies have shown that mobile apps are more popular than websites as they are easier to use. Mobile apps provide a better user experience, load content faster, and are very easy to use. Applications allow the user to perform a task better with the help of gesture. It is very easy to navigate, unlike the website.
#7. Push Notifications
The ability to notify your customers of important information on their mobile devices is invaluable. Your brand becomes the center of attention on their phones and tablets, making your ads visible and relevant. Top mobile app development companies always focus on this factor within their business strategy.
#8. Showcase Products
Showcase your products so users can easily browse and shop from the convenience of their mobile device. A mobile app simplifies the shopping experience and makes it easy to view your provided services. Always update your mobile app and website with the latest launch products to keep people in the loop and really help improve product sales and revenue.
#9. The Customer Prefers Mobile
With the advancement of technology, people use more mobile devices than laptops as everything is now available on the phone. Several updates and competitors later, it's clear that mobile devices aren't going anywhere. Chances are, your competition already knows that mobile is not just hot, it's a strong and lucrative market that they're targeting. Don't be left behind with outdated methods of reaching your customer base.
#10. Active on Social Media Platform
Social networks are deeply connected with smartphones. Mobile apps are an ideal platform to engage users' social circles through the different features and options. Information management has become a key part of users' lives. They memorize or store passwords. They manage complex ecosystems of published content every day just to stay connected with family and friends.
Anything that companies can do to create continuity and cohesion for users will certainly generate recognition. Consider including Facebook or Twitter credentials to allow users to log in to your solution. When your users are appreciative, watch brand loyalty spike.
Final Thoughts
There are about 2 million apps on the App Store and over 3 million on the Play Store, which means the competition is getting tougher. So, to grow mobile app business, your business app needs to challenge existing apps in your business category.
You have to adopt the right mobile trend and team that will attract your customers to spend more money and time on your business. The best mobile app development teams are those that are up to date with trending technology. So, the next step is to plan your mobile app and determine what type of app you want to develop. To keep things simple, contact us, a renowned mobile app development company, to help you build a mobile app from scratch.
At SynapseIndia, we provide you with the economical solution in terms of mobile app development framework, we design an intuitive mobile app UI/UX design and develop a mobile app that can meet the needs of your target audience and result in growth.
Tags:
Author

: Priya Chandoliya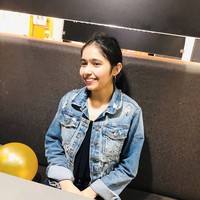 Priya Chandoliya is a professional blogger who specializes in building online communities. She has helped many of brands to increase sales, leads, and retentions. Priya has recognition of her write-ups across the globe. And Priya writes about how businesses can escape marketing mediocrity to achieve tangible results.