Why Many Mobile App Development Projects Don't Get the Desired Market Penetration & How to Make It Work?
13 Jul 2022
"The success of mobile applications depends on many factors. If you want your app to be the next big thing in the marketplace you need to closely work on each factor. Focus on both market and audience research to make your application stand out."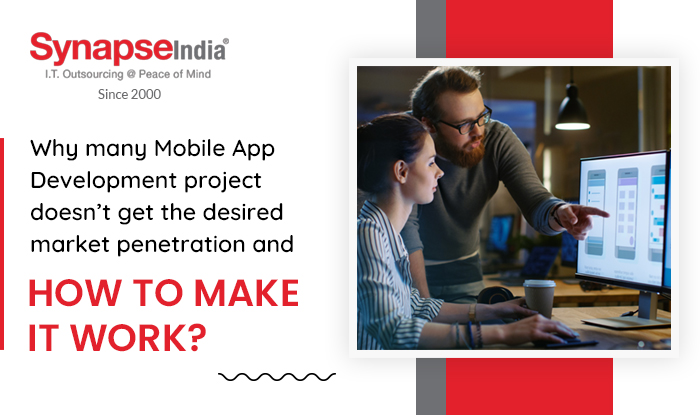 Mobile app development has become a competitive and tricky business. In recent years, the competition in the app development industry has grown immensely. Every entrepreneur wants to attract users attention but a new app in the market can either be a debacle or a success. Mobile app market has become huge and is expected to reach $311,249 million by 2023. So, if you have any ground-breaking idea, today is the right time to invest in that idea.
Whether you are a naive into the competitive tech world or a top business executive, youd want an app that has the potential to grow your customer base. A dependable mobile app is the need of every business since it helps in analyzing the consumer behavior at the time of making a purchase. As per the research, approx. 72% of mobile applications face a snakebit because of the poor market research. Before launching an app in the market, it is essential to know what type of apps are in demand and who is your end-customer.
Though, the competition in the market is high and the chances of getting lost in the crowd is also immense. But there are other contributing factors that have a significant role to play in the failure of any mobile application.
Why Do Most Mobile Apps Fail?
Poorly Researched Market & Audience
Most entrepreneurs live in an expectance that their app will attract users and will play an important role in making their life easier and simpler. But can you validate that assumption? It is almost impossible to say how customers will react to your product. But if you have a deep understanding of your products target audience, you can to an extent predict their reaction. Audience research is required not only at the time of app design and development, but it also helps in drafting a thoughtful marketing strategy. A successful app launch strategy is the core of user research.
Often an app can have users of different groups so during an initial stage of planning, you need to identify the products demographics in order to create a user persona. Detailed user personas aid the team to understand the users better. Motivations, goals, and demographic behavior patterns are a few things that are included in a user persona.
Developing a mobile App without investing your time and money in doing proper research, understanding the audience, and strategizing the use cases that will appeal to the audience, will only fail poorly in the market.
Lack of Originality
To gain competitive advantage in the market, it is crucial to understand your competitions strengths and weaknesses. To win over users, you need to offer them something unique that they find attractive and usable. A unique value proposition (UVP) is the first step that helps in optimizing user loyalty and overall business success.
Having a vision statement for your product makes it possible to achieve success because a vision statement provides a definite sense of direction towards the end goal. It also addresses the problem that users are facing and delivers its solution.
Mobile prototyping is another way of creating a UVP. A prototype is important in testing a mobile product for creating user-centric design and development. Prototyping process gives new ideas and shows the best direction developers should take during the development process. Creating a prototype helps in refining the final product since the team continually analyzes and reviews the product concept. This process is a cheap way of fixing bugs and altering the project before it goes on floor and is far less expensive.
Poor User Experience
Components in mobile app development are and give users a great experience. It is important for an app to be intuitive. If a user struggles to understand its basic functionalities the app will not gain any recognition and will count as a futile effort of developers because of its poor usability. Some examples of poor user experience are as follows:
App performance issues (slow or lagging)
Long load times
Long registration processes
Features that are difficult to access
Popular mobile apps are known for their user-friendly experience. Developing an amazing UX includes practicing design thinking and having an understanding of users needs.
Improper Testing
Minor bugs are always hidden in the nook and cranny of an app which is ready to launch. Therefore, it is essential for you to invest in a QA team that will ensure your product will go on floor with no major issues. An improper tested app results in app crashing which is enough to stop users from ever using it again.
Follow a documented process to do a thorough app testing to make sure that the application is bug-free and market ready. Remember, if you fail to impress users in your first chance then its very unlikely, youll get a second chance to prove yourself.
How to Make it Work?
Mobile application development follows a build-measure-learn process. A mobile app development team needed to set a success criteria to measure their growth and performance in the long-term. However, the definition of success differs from industry to industry and depends on the type of mobile application. Therefore, it is important to understand your industry, and objectives before investing time and money on the development process.
There are certain success metrics that need to be monitored to measure the performance of your application. These metrics are divided into four categories and are as follows:
4 Categories of Success Metrics That can Improve the performance of your app

Bottom Line
How good an app will perform once its out in the market relies on many factors. From competition to marketing budget, you need to keep an eye on everything. Apart from these factors, poor research and poor process can significantly impact the performance of the mobile application. Focusing efforts on market and audience research, following platform-specific best practices, and thorough quality assurance testing can be the difference between failure and success.
Tags: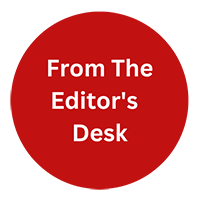 "From the Editor's Desk" is not just about the content. Our content writers will be sharing their thoughts on industry trends, new technologies, and emerging topics that are relevant to our readers. We believe that it's important to stay up-to-date with the latest news and trends, and We excited to share my thoughts and insights with you.