5 Shopify Alternatives For Your eCommerce Business
29 Sep 2021
"5 Shopify Alternatives For Your eCommerce Business"
Shopify has transformed the eCommerce industry. It has certainly become one of the most popular and used eCommerce platforms in the market. Over one million businesses are registered on Shopify because of its user-friendly interface. Though, the popularity and the feasibility of the platform doesn't make it the best marketplace for E-commerce business.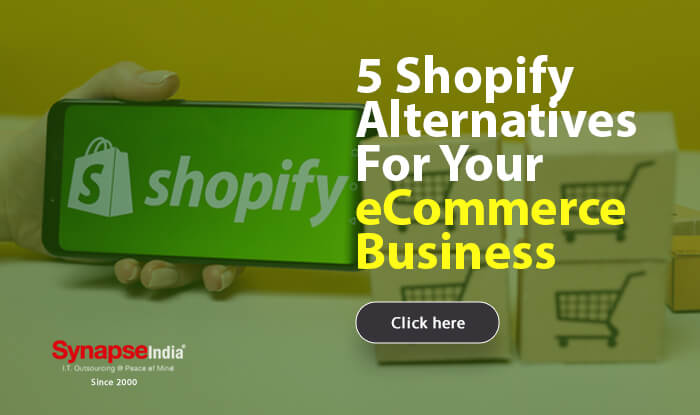 Since the search for the best Shopify alternatives has landed you here, it is our responsibility to provide you with the best alternative to Shopify.
Before jumping into the topic let us first take a glance at "what Shopify is?"
Shopify is software that allows you to create and operate an online store. The platform offers features like website building, product management, calculating shipping rates, and more to its users.
Reasons Why You're Probably Looking for a Shopify Alternative
●
Shopify Payments Can Be Expensive
One explanation is the capacity to choose your payment gateway with no extra charges. With Shopify, if you don't use their payment gateway, Shopify Payments (which is fueled by Stripe), you can be charged transaction fees of 2% of every deal. Also, not using Shopify payments will restrict you from some Shopify features, such as the freedom to transact in multiple currencies.
SEO plays a crucial role in the realm of digital marketing and it also has an important role to play in the eCommerce industry. Though Shopify manages basic SEO tasks skillfully it may not be enough for your website if you heavily rely on organic search.
For example, Shopify does not give the authority to its users to access and edit robot.txt files. For queer, the robot.txt file is used to tell Google how to index your website and webpages.
5 Shopify Alternatives
Once it is clear to you what features you want in your eCommerce platform, it's time to evaluate Shopify's competitors.
The names we have suggested below with their pros and cons will help you in the decision-making process.
Established in 2009, BigCommerce is an adaptable, open SaaS online business platform that empowers organizations, all things considered, to fabricate and scale their internet-based stores.
While Shopify is incredible for beginning, in case you're hoping to develop and scale your business, BigCommerce is the better decision.
Pros
❖
Powerful out-of-the-box attributes are included with every plan.
❖
It supports over 55 payment gateways with zero charges.
❖
Not necessarily coding knowledge is required at the time of page builder and drag-and-drop visual editor
❖
SEO friendly, such as fully customizable URLs
❖
24/7 assistance is available.
❖
A large ecosystem of Agency and Technology Partners.
Cons
❖
BigCommerce offers only five free themes, though the platform has a wide range of paid themes.
❖
As a new user, you will experience a slight learning curve because of the features BigCommerce offers.
Since 1997, Shift4Shop has offered ecommerce business ideas with attention to SEO.
So, in case, you're an SEO addict and you depend intensely on organic search, you may incline toward Shift4Shop to Shopify.
Pros
❖
This Shopify alternative has a built-in blogging platform incorporated with every plan.
❖
A very small online store can get a complete platform for eCommerce business at an affordable range.
❖
More than 100 online payment solutions, including international processors, make it user-friendly.
Cons
❖
Unlike BigCommerce, it has a steep learning curve which sometimes makes navigation difficult.
❖
Users are charged an additional $10 a month because of the limited number of staff users.
❖
All free themes have similar designs.
Launched in 2011, WooCommerce is an open-source module intended to change WordPress sites and blogs into eCommerce websites. This makes WooCommerce a decent option in contrast to Shopify in case you're as of now acquainted with WordPress.
However, if you're stressed, you can just use WooCommerce with your WordPress blog. For example, BigCommerce has a simple-to-use expansion that will coordinate with your current WordPress site.
Pros
❖
The plugin itself is completely free to use with any WordPress site.
❖
It's easy to integrate with any existing WordPress site.
❖
Because it's open source, you can fully customize your store's code.
❖
You have access to hundreds of free and paid extensions.
Cons
❖
Though you may enjoy a free plugin domain hosting, SSL certificate, finding an email provider and various other features fall under your responsibility and expenditure.
❖
You may need a developer if you want to utilize your eCommerce store to its best.
❖
Adding core features to WooCommerce requires plug-ins—leading to more complexity and lower site performance.
First delivered in 2007, Magento is an online business platform and alternative to Shopify based on open source technology. Procured by Adobe in 2018, Magento offers Magento Commerce for big business and Magento Open Source for independent companies.
So, if you're an Adobe fan then Magento is best suited for you.
Pros
❖
An open-source platform gives backend access as well to the user.
❖
Globally, Magento has a network of over 260,000 developers, creating additional functionality for the platform.
❖
Enterprise businesses on Magento Commerce have the option of a cloud-hosted solution as part of the package hosted on AWS or a self-hosted solution.
❖
For third-party apps and add-ons, you will have a large partner ecosystem.
Cons
❖
Since Magento Open Source is strictly on-premises, you are either required to host it yourself or go through a third-party web hosting provider.
❖
Magento offers patches and upgrades, you are responsible for installing and managing these updates.
❖
No matter which version you choose or how you host your website, you'll need a developer, in-house IT team, and/or an agency to manage the build and maintenance.
❖
Magento has an extremely extensive setup, which leads to high costs to complete the builds.
PinnacleCart
Begun in 2003, PinnacleCart is a shopping cart arrangement intended for little to average-sized organizations with a sheer focus on marketing.
As a Shopify alternative, it's an extraordinary decision in case you're searching for more command over your retail facade, just as extra SEO highlights.
Pros
❖
You can either choose to host on PinnacleCart or you can choose to manage to host on your own.
❖
SEO-friendly features, such as schema.org tags and custom URLs.
❖
Unlimited products and categories on every plan.
Cons
❖
Because PinnacleCart has versions, you'll need to manage upgrades.
❖
There's a very limited partner network, as it only integrates with 64 apps.
❖
Unlike Shopify's wide selection of themes, PinnacleCart only has 12 themes available.
Since you have a lot of options to choose from, let us know which one is your favorite and why.
Tags: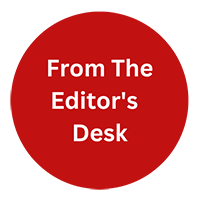 "From the Editor's Desk" is not just about the content. Our content writers will be sharing their thoughts on industry trends, new technologies, and emerging topics that are relevant to our readers. We believe that it's important to stay up-to-date with the latest news and trends, and We excited to share my thoughts and insights with you.