eCommerce Developer Services in India: Boosting Small Businesses Through eCommerce
20 Dec 2022
"eCommerce developers have made it easy for small business owners to achieve their goals. Entrepreneurs can focus on more crucial aspects of their job while the development team professionally manages the expansion of business in the online world."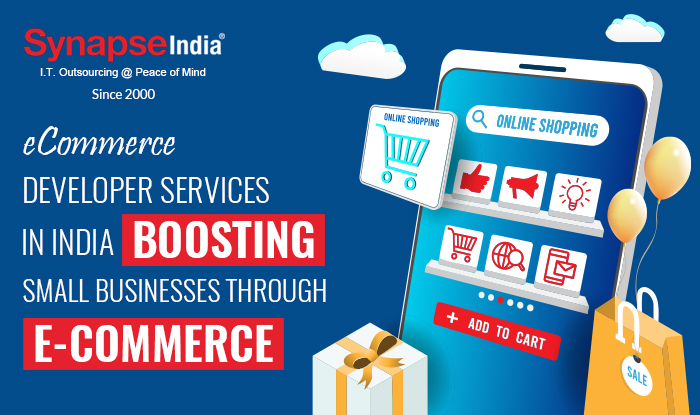 We live in a period when the internet has become an important part of our routine. Its hard to imagine a day without using the internet. Whether it's deciding the best course to your destination or indulging in thorough research prior to making a purchase, the web takes care of it. There's no question that we're creating a world that is completely dependent on the internet.
When the pandemic hit the world, the consumer behavior paradigm shifted. In the current world scenario, consumers prefer online shopping because of the ease and comfort it offers. Hence, considering the market requirement it has become the need of the hour for companies to switch to the online world.
However, relocating from offline to online can be challenging for somebody who isn't utilized to the web. You may experience tech difficulties, creating a business plan for the eCommerce industry, and collecting a team of experienced developers who will help you in the successful execution of your business.
With the right direction and support from knowledgeable eCommerce developers, the transfer process becomes smooth. As an online business owner, it's crucial for you to choose consulting services based on your eCommerce business plan. This will simplify the procedure as a whole and assist you in developing superior business strategies.
In this blog we have discussed how eCommerce developers utilize tech to help small businesses to grow in the eCommerce marketplace.
Tech Trends eCommerce Developers Use to Help Small Businesses
Visitor Tracking & Stats
It is really simple to observe where visitors are coming from, the sites they are viewing, and where in the country they are coming from when using tools like Google Analytics and SEMrush. You may also track cursor movements while customers visit your online business using programs like Crazy Egg and Mouse flow.
With a physical business, it would be exceedingly challenging to collect this kind of data on client browsing habits or customer traffic.
Lower Operating Costs
Affordably developing an eCommerce store is possible thanks to inexpensive platforms and web development firms. Their products make it simple for business owners to launch an online store with everything from a visually appealing, user-friendly website to accepting digital payments to handle inventory and delivery.
Even though setting up an e-commerce store will involve a lot of details and challenges, your initial investment will be relatively low compared to opening a physical store.
Increase Online Presence
Industry experts' surveys show that most consumers prefer to shop online than physical stores for their items. Although having an actual physical business inspires trust and confidence in customers, nothing compares to the convenience of internet buying. In America, about 80% of consumers expected to buy for the holidays online at retailers like Walmart, Target, and Amazon, and those percentages are steadily increasing. These numbers merely serve to demonstrate how persistent the internet retail sector is.
Even if they prefer to purchase items in-person, your clients research pricing, read reviews, and carefully study product/service information online before making a purchase.
Easier Way to Shop & Sell
In general, online business has made the shopping system significantly more easy and simple. Not only it can be simple for you to sell as an entrepreneur, however the client can likewise receive rewards from the effortlessness and simplicity of internet shopping along this way. This simplicity can help your business, as clients will generally buy things online prior to venturing into the shops. In this way, you don't need to invest huge sums in physical stores and assets, while your clients can place an order online from the comfort of their own homes. It's genuinely a shared benefit!
Leverage Other Commercial Platforms
While a definitive objective is to get clients directly to your business site, to start you can get to other business stages to get your brand name out there. Consider well known Internet business stages like Amazon, Etsy, and Flipkart that empower little retailers to sell their items on the web. This will give an underlying lift to fabricate a brand name, trust, and experience with a current client base. Business people can likewise use coupons and discounted deals-based commercial platforms to take advantage of a current client base and influence them to collaborate with you.
Search Engine Traffic
Search engines are the sacred goal of internet searches. Instead of continually pushing out promoting messages and attempting to interface individuals to your web-based business store, a search engine will coordinate a client's inquiry questions with products and data that are accessible on the web.
Assuming you go for digital marketing services that assist you with positioning great in Google then you will get repeating month to month natural traffic that can change over into a consistent flow of income. In the event that your item is on Amazon or Etsy, you can likewise get traffic from their web search tool.
Conclusion
eCommerce developers are doing their best to provide support to small businesses. They are making their growth journey smooth and sleek. If you want to expand your business, then now is the time.
SynapseIndia provides eCommerce solution services to businesses of all sizes. Our professionals use their skills to strengthen companies who are willing to grow outside the world of brick-and-mortar stores.
Tags: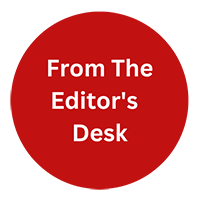 "From the Editor's Desk" is not just about the content. Our content writers will be sharing their thoughts on industry trends, new technologies, and emerging topics that are relevant to our readers. We believe that it's important to stay up-to-date with the latest news and trends, and We excited to share my thoughts and insights with you.