Reduce operational cost of retail industry with eCommerce automation
22 Jun 2020
"This blog is about bring eCommerce automation benefits in retail business to reduce overall operational cost."
The retail sector is moving towards eCommerce automation to scale up the business, save operational cost, and bring efficiency.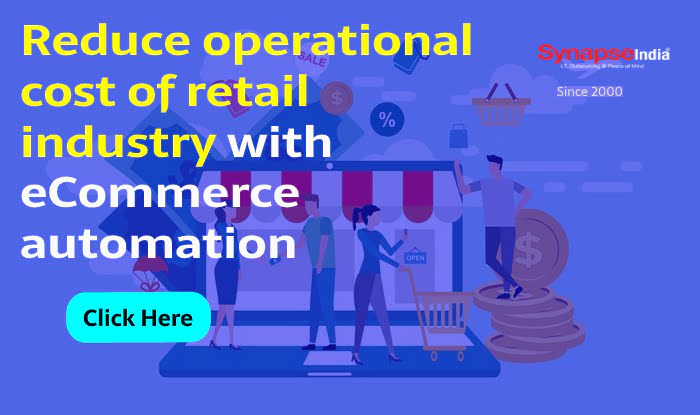 Being in the world of eCommerce, automate majority of your operational tasks to bring improvement and growth at low-cost.
There's is nothing worse than a losing customer on your eCommerce website. You and your team members, juggle a lot to manage functioning of online shopping platforms.
There are hundreds of tasks need to performed by eCommerce retailers. This includes managing sales pattern, take care of backend data, making operational changes, and more.
Believe the fact that numerous small tasks you do to manage eCommerce consumers take much of your time and effort. Thus, giving you least opportunity to experiment with something to increase product sales.
At this point lies the assistance of eCommerce automation, manages everything with and scale up the business to great extent. Availing the latest technology feature for an existing online business, automation helps to discover sales and boost the same.
What is eCommerce Automation?
Ecommerce automation in retail industry is about eliminating the manual process to an extent and do most of tasks automatically.
Automation features software, tools & applications to do heavy lifting for your business and let you focus in sales strategy. It further helps you concentrate on decision-making skills, dedicate resources to scale up the business, and reduce operational cost.
Why retail automation is required?
The moment you think of expanding your retail business. It comes with more tasks, responsibilities, and complexity. To do such tasks quickly, eCommerce automation software or tools can be availed to bring a maximum level of efficiency.
This helps retailers to manually work on important matters and automate the work of the following few tasks:
Inventory management
Marketing
Product shipping
Customer service
Workflow management
Returns and refunds
Accounting
Selling products online
Receiving online orders
Data analytics
and much more
Benefits of enhancing existing eCommerce business with automation technology
Minimize manual tasks: Eliminate a majority of manual tasks with regarding t updating product information by separate resources. Instead, rely on CMS platform to update whatever information you like quickly. Even cut down expenditures of maintaining different resources for manual labor. Bring automation to reduce cost on manpower as well.
Reduce abandoned cart rate: It's a problematic situation for retail business to find abandoned cart from customers. Bring eCommerce automation to send out push notifications or reminder emails to customers in order to increase conversion chances.
Serve customers properly: Follow the right and streamline process to serve customers in a better manner. If you have promised deals or discounts to customers, then provide the same using eCommerce automation. Create product offers well in advance using software to fulfill requirements of diverse customers.
Improve product details: In addition to eCommerce website inventory management using software. Update product information accessing fast operational tools. Enter the right SKU for the product along with features and prices automatically.
Ecommerce automation is a way to grow your retail business to great extent. Get all the benefits of automation to further increase the brand value and boost product sales.
Rely on SynapseIndia as one of the leading IT companies that offers the profitable eCommerce technology support.
Contact us for any query at info@synapseindia.com
Visit at: https://www.synapseindia.com/industry/retail-software-development.html
Tags:
Author

: Chandan

Chandan is a professional copywriter having years of experience in writing effective copies for apps, marketing campaigns, and websites. The author generates business-driven content related to various industries. Being a technical copywriter, he has great knowledge of technologies and features. Additionally, he writes after making a detailed discussion with the internal technical team and business developers.